Maori Facts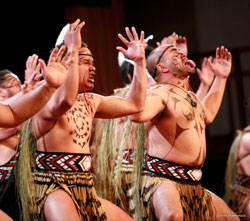 Copyright: James Heremaia (
[email protected]
)
The Maori are the indigenous inhabitants of New Zealand.
The Maori are a Polynesian people, most closely related to eastern Polynesians.
Maori arrived in New Zealand, then known as The Land of the Long White Cloud, around AD950 in canoes. They mostly settled in the Northern parts of New Zealand as they were warmer.
Maori are a deeply superstitious and religious people, believing in gods and the spirits of their ancestors.
Copyright: James Heremaia (
[email protected]
)
Maori culture is steeped in legend, rich with spiritual beliefs.
The Haka is a traditional, ancestral war cry, dance or challenge of the Maori. It is used to greet important people visiting a Marae, at national festivals, sports events and other important occasions.
Maori define themselves by their iwi (tribe), hapu (sub-tribe), maunga (mountain) and awa (river).
Maori speak fluent English.
Te Reo Maori is the Maori Language. It is classified as part of the Polynesian Group of the Eastern Oceanic Branch of the Austronesian languages, and is an official language of New Zealand.
In August 2017, Rotorua was the first city to declare itself bilingual in te reo Maori and English.
Marae's (communal plazas) are important within the Maori community, and provides a focus for social, cultural and spiritual life.
Traditional arts such as carving, weaving, kapa haka (group performance), whaikorero (oratory) and moko (tattoo) are common Maori practices, and are still actively used throughout the country.
Dutch navigator Abel Tasman was the first European to encounter the Maori, however, British explorer Captain James Cook was the first to officially discover New Zealand and document contact with the Maori.
In 1840 representatives of Britain and Maori chiefs signed the Treaty of Waitangi which established British rule over New Zealand, and granted the Maori British citizenship and recognised Maori land rights. The translation of this treaty has been cause for much dispute over the years.
The early settlers of New Zealand hunted the moa - large flightless birds, to extinction.

Read more about the Maori